Pool Deck Installation in Fort Lauderdale, FL and the Surrounding Areas
Many homeowners ask us yearly what to do with their old pool decks. As your pool deck ages, you'll notice things like cracking concrete, sinking, and unevenness. These things can not only be unsightly but also dangerous. Robert Raypole's Pools Palms and Pavers work with homeowners and contractors to design and build pool decks that are functional, durable, and pleasing to the eyes. As the summer draws to a close, it is time to renovate your pool deck in time for next year.
Your pool should be safe and beautiful to enjoy your time and create memories. There are many factors to consider when remodeling or installing a pool. You have the option to choose from travertine and porcelain as well as pavers when you work with us. We aim to ensure that your pool deck looks great and is functional. Our team will make pool deck renovations as easy as possible. We can handle everything from project renderings to material ordering and delivery to installation and clean-up.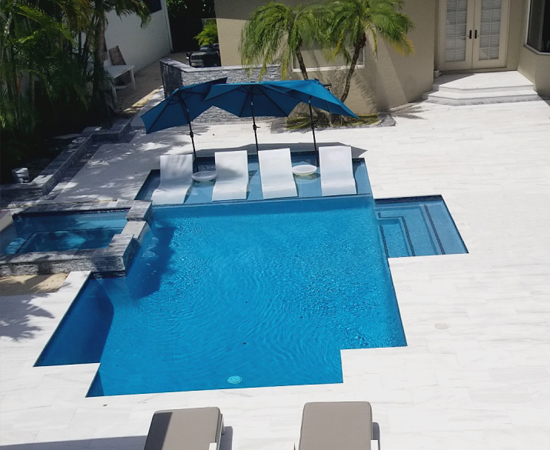 We Offer Expert Pool Deck Installation Services
1. Customized Design Solutions:
Our experienced team collaborates with you to create a customized pool deck design that aligns with your vision and enhances the aesthetic of your outdoor space. Whether you envision a sleek modern look or a more classic, timeless design, we have the expertise to bring it to life.
2. Material Selection and Diversity:
Choose from a wide range of premium materials, including durable concrete, elegant travertine, classic brick pavers, and more. Each material is selected for its durability, safety features, and ability to withstand the demands of a poolside environment.
3. Professional Installation:
Our skilled craftsmen employ industry-leading techniques to ensure precise and secure pool deck installation. We pay meticulous attention to factors such as proper base preparation, drainage, and slip resistance, resulting in a pool deck that not only looks stunning but also prioritizes safety.
4. Finishing Touches and Accessories:
We go the extra mile to add those special touches that complete the installation. This may include options such as pool deck lighting, seating areas, and landscaping features that enhance the overall ambiance.
Benefits of Our Pool Deck Installation Services:
Enhanced Poolside Experience:

A well-designed pool deck provides a comfortable and inviting space for lounging, entertaining, and enjoying quality time by the pool.

Safety and Comfort:

Our pool decks are designed with safety in mind, utilizing materials and features that provide traction and reduce slip hazards.

Durability and Longevity:

We use high-quality materials and expert installation techniques to ensure that your pool deck stands up to the demands of regular use and exposure to the elements.

Increased Property Value:

A thoughtfully designed and expertly installed pool deck can significantly enhance the value of your property, making it a valuable investment. 
Get the Best Pool Deck Installation Services in
Fort Lauderdale, FL
We proudly serve Fort Lauderdale, Boynton Beach, Palm Beach County, Broward County, and nearby areas. 
Your pool deck is more than just a place to lounge; it's an extension of your living space, a stage for outdoor gatherings, and a canvas for relaxation. At Robert Raypole's Pools Palms and Pavers, we specialize in pool deck installations that blend form and function seamlessly. With a keen eye for design and a commitment to quality, we transform pool areas into inviting retreats that complement your lifestyle.
Contact us today to learn more about our pool deck installation services and to request a quote.